Number Theory: The fiscal perspective on Congress' Karnataka guarantees
Congress' promises include cash transfers, subsidised food, LPG cylinders and electricity, and entail a significant fiscal allocation.
Five guarantees given by the Congress are believed to have played a big role in the party's victory in the recently concluded Karnataka assembly elections. These promises include cash transfers, subsidised food, LPG cylinders and electricity, and entail a significant fiscal allocation. While one must wait for the new government's budget to ascertain the exact allocation for fulfilling these promises and the source of the funding, it is worth taking a close look at the state of Karnataka's fiscal affairs.
Karnataka's fiscal deficit is below 3% of GSDP
Historically, Karnataka has been consistently fiscally prudent, with its gross fiscal deficit below 3% of GSDP, the
limit set by the Karnataka Fiscal Responsibility Act (KFRA) of 2002. Karnataka's budget for 2023-24, which was presented on February 17, estimated the 2023-34 gross fiscal deficit at 2.6% of the state's GSDP. While this number is lower than the revised estimate (RE) of 2.7% for 2022-23 and the actual deficit level of 2.9% for 2021-22, it is higher than what it had been in the past. The gross fiscal deficit averaged to 2.2% (range of 1.8% to 2.4%) under the five-year term
of Congress government led by Siddaramaiah from 2013-14 to 2017-18. The previous Congress-Janata Dal (Secular) coalition government led by HD Kumaraswamy had budgeted a higher deficit (2.6%) than the past average in the interim budget presented in 2018-19, possibly because of the need for additional
borrowing space in the post-GST regime. The last BJP government only assumed office in July 2019 and its first budget in March 2020 was derailed by the pandemic, so the numbers are not exactly comparable.

2023-24 fiscal deficit is third-lowest among major Indian states
An HT analysis of state budgets for 17 states shows a consolidated gross fiscal deficit-to-GSDP ratio at 3.2% for 2023-24. These states are Andhra Pradesh, Chhattisgarh, Gujarat, Haryana, Jharkhand, Karnataka, Kerala, Madhya Pradesh, Maharashtra, Orissa, Punjab, Rajasthan, Telangana, Tamil Nadu, Uttar Pradesh, Uttarakhand and West Bengal. Karnataka's fiscal deficit ratio is the third lowest (after Gujarat and Maharashtra) and significantly below the consolidated figure.
But Karnataka's debt-GSDP ratio has risen significantly
Another fiscal indicator, the debt-GSDP ratio, shows a higher stress in Karnataka's finances. The 2023-24 budget puts this number at 25%, which is significantly higher than the 21.2% figure between 2013-14 and 2017-18. To be sure, this was on a downward trajectory since 2015-16 until the pandemic hit, and it jumped to 27.5% in 2022-23. It will be interesting to see whether the government decides to take on more debt to fulfil the promises made during the elections.

Committed spending
While Karnataka's 2023-24 budget provides for a spending of ₹2.9 lakh crore, not all of this will be at the new government's disposal for financing its poll promises. This is because a lot of government spending is already earmarked for
fulfilling commitments such as salaries, pensions and interest payments. The Medium Term Fiscal Policy statement in Karnataka's 2023-24 budget shows that the share of non-scheme based committed spending in total revenue receipts has increased from 45% in 2021-22 to 60% in 2023-24 (BE). The implementation of the Seventh Pay Commission payout, which will cost the government between ₹12,000 and ₹18,000 crore for the first year, will further push this number higher.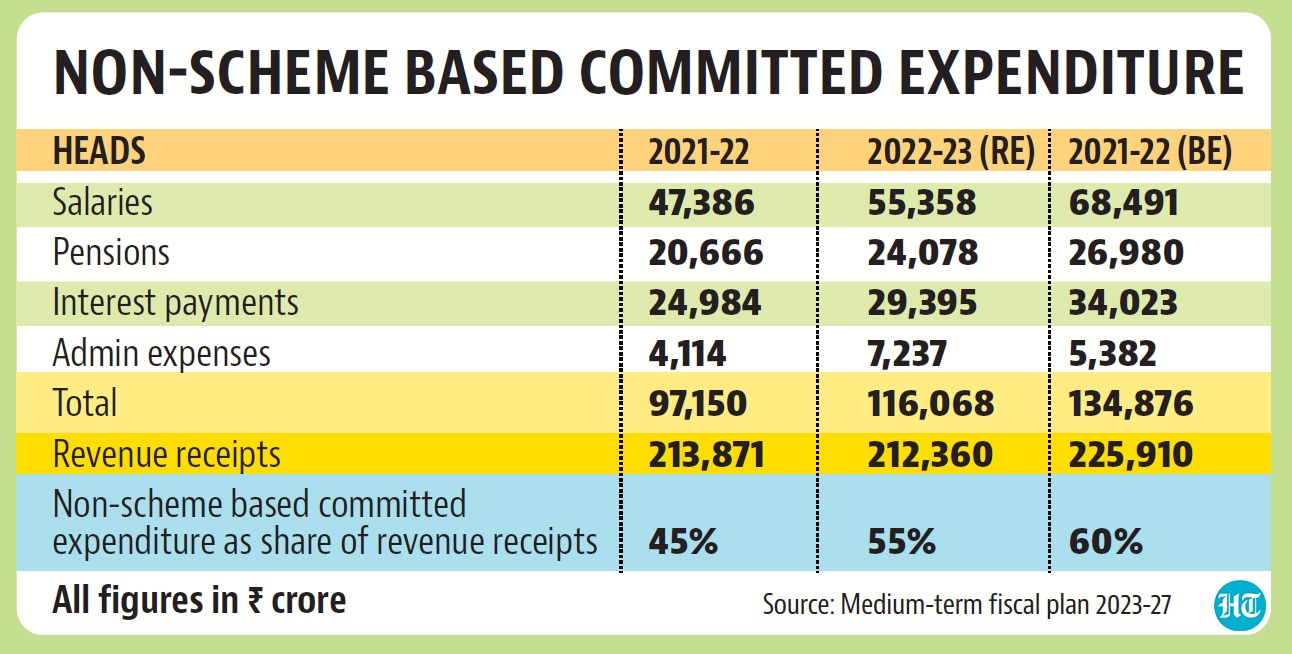 Karnataka lags behind in infra and social spending
A 2020 paper by economists Lekha Chakraborty and Jannet Farida Jacob argues that Karnataka was able to achieve fiscal prudence through expenditure compression and not by increased tax buoyancy. "Tax-GSDP ratio is not increasing and is around 7% of GSDP. On the expenditure side, the state has compressed its capital expenditure and marginally decreased its spending on education and social welfare and nutrition", said the authors. Capital outlay was budgeted at 2.5% of the state's GSDP in 2023-24, lower than the five-year average of 2.7% under the previous Siddaramaiah-led government. At the all-India level, the 2023-24 number for Karnataka is lower than average of 3% obtained for 17 states for which this analysis is possible, and is the ninth-lowest amongst them. If capex sees a further reduction to fulfill poll promises, it will be inimical to the state's long-term growth prospects.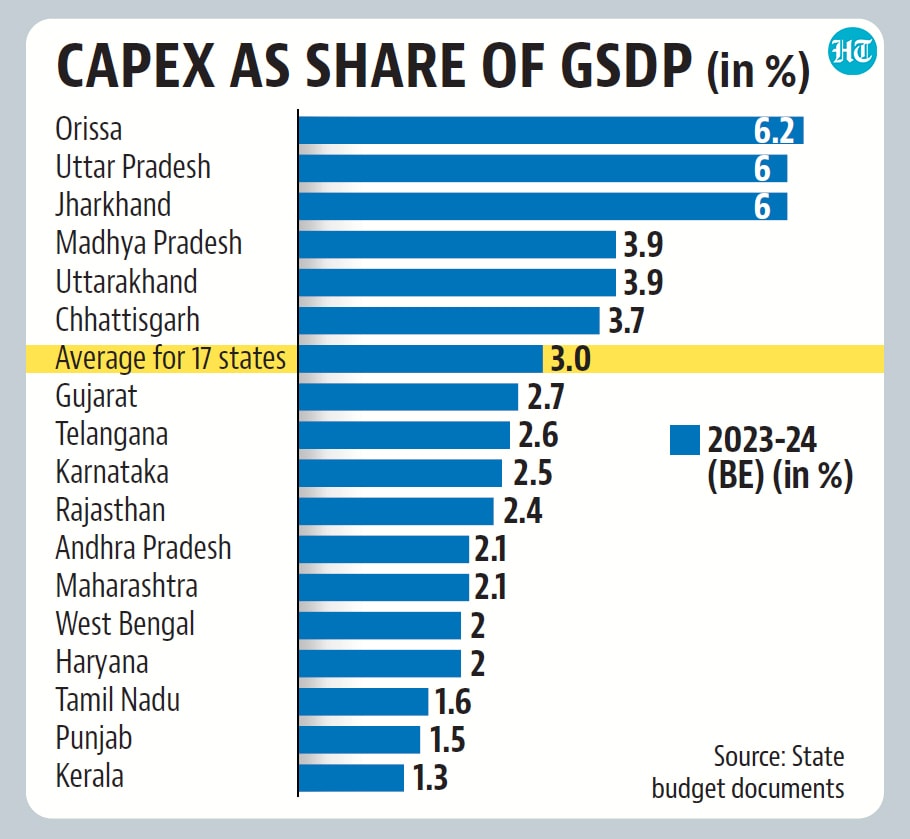 Disclaimer: This Article is auto-generated from the HT news service
Article: