'I tried a lot, worked on my powers to get other lads': Sunil Chhetri on India's squad at Asiad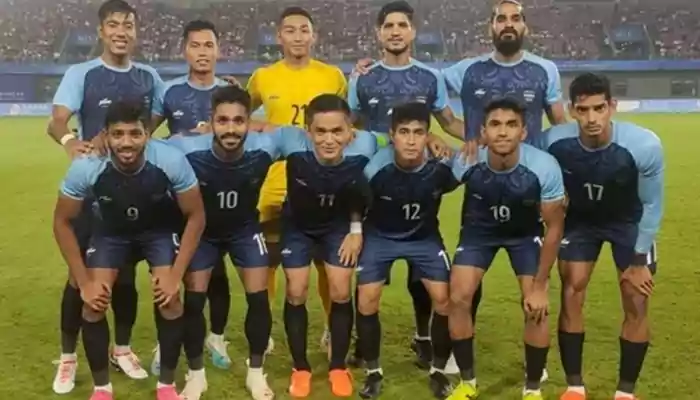 'I tried a lot, worked on my powers to get other lads': Sunil Chhetri on India's squad at Asiad
The Indian men's football team had a tough start to the Asian Games, enduring a 1-5 hammering against hosts China in their first outing at the continental showdown. Despite the shattering outcome, the unit defeated Bangladesh in a do-or-die encounter, and on Sunday they engaged in a 1-1 draw against Myanmar, which helped them qualify for the knockouts for the first time in 13 years.
While the performance may not have been as good as witnessed in the past tournaments – Intercontinental Cup, and SAFF Championships – the team should be proud with what they've achieved, considering they hardly got any time to practice.
A final draft of the players traveling to China was finalised almost at the last hour, with few unavailable when India were playing their first match.
Despite the challenges, India fought their way to the round-of-16 and shortly after coach Stimac also gave fans a glimpse of the work behind the scenes. In a series of tweets, the coach commended his players for the resilience they've show despite the struggles.
"From completing their sleep in airports, to activation / recovery sessions in parks in China, I wanted to personally show my appreciation to all my players here at the Asian Games. These boys are thorough professionals and doing everything they can to make India proud," read the first tweet.
"Against all odds, we have obtained our primary goal of qualifying for the last 16 and these players deserve all your love and praise," he wrote in the second.
While India did manage to stitch a rag-tag unit just days before the event, the Blue Tigers do have the luxury of having senior pros Sunil Chhetri and Sandesh Jhingan in the mix. The Indian skipper and the defender have played all the three matches at the Asian Games, with Chhetri also scoring two of the three goals India have scored so far in the competition.
"It has been difficult, we are playing three games in five days. The good thing is we have qualified (for round of 16) now and we will hang on. We need to be as fit as possible for the next match," Chhetri was quoted as saying by PTI after the match against Myanmar.
Chhetri, Jhingan and India's first choice goalkeeper Gurpreet Singh Sandhu were named in a full-strength team but the latter two were not released by their respective Indian Super League (ISL) clubs. While Gurpreet, who plays in the same club as Chhetri is engaged with ISL, Jhingan was released by FC Goa after an appeal by the Indian skipper.
"I am feeling guilty of forcing him (Jhingan) in different ways to get him here. Because I realised it was only me (in the team) with the young kids I have not played with before, due respect to all of them.
"I thought all three of us were going. Then I found out two days before departure that it was only me (out of the three) going.
"There was a day I thought I was not playing. I was thinking of getting other lads and I could fish only one. I take responsibility that I tried a lot, worked on my powers and I could fish him (Jhingan)," said Chhetri.
Chhetri spoke highly of Jhingan, describing him as a football brain as well as a "warrior". "A lot of people said this and that about his defending, but he is a good football brain and he is an absolute warrior. That is the best thing about Sandesh. His will to win is second to none. He will do anything to win."
India now have an uphill task ahead of them as they meet heavyweights Saudi Arabia, who defeated Argentina in the World Cup, in their next match.
Disclaimer: This Article is auto-generated from the HT news service.