Few tips and tricks to start a conversation in the right way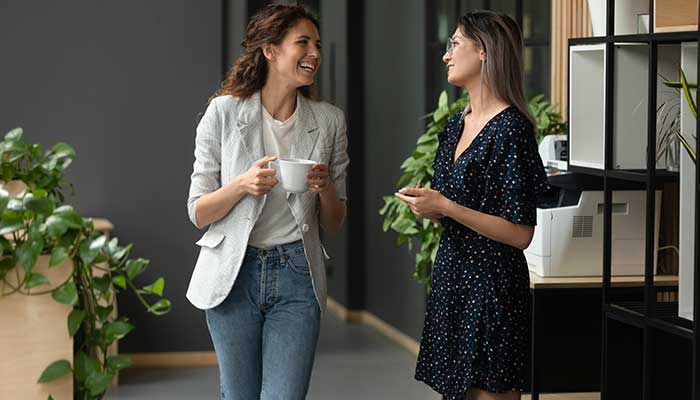 Starting a meaningful conversation is an art. So, how do you do that? Read on
Some people are gifted with the art of being a good communicator but, often people struggle with making "small talk". It is essential to be a good communicator not just in your personal but professional life as well. It helps in networking and building a new relationship. So, dazzle everyone you meet for the first time with these tips and tricks.
Ease your yourself and prepare for a conversation
It is better to ease yourself before initiating conversation with someone. You would be surprised to know that rehearsing or practising what are you going to say beforehand helps you to be at ease. And if you are a bit shy or introverted, keep in mind the following strategies.
Don't worry too much about making a mistake. Worrying too much would make you look insecure and confused and even can cause fumbling.
Take a deep breath and start the conversation. The best ice-breaker would be to introduce yourself so that the other person does the same.
Keep a positive approach
Do not start your conversation with complaints or snidely comments or observations. Like about the food, host, venue or even the weather, try to keep the observations positive. Your positive outlook would impress the listener. It is believed that people naturally feel at ease with someone who has a positive and cheerful personality.
Start with a simple conversation
It is not necessary to start with heavy, philosophical or informative talk. It can make you look like a pseudo-intellectual. Start with something simple that can get the conversation rolling.
Ask questions
This is a very helpful tactic to get the other person feel comfortable with you. You can ask a simple question like "I really like your purse, where did you get this from?", or "Do you know where can I find the beverages?". Asking a question would soon deviate to other questions and topics, and you would get the other person feel comfortable in conversing with you.
Body language
Body language or non-verbal communication is extremely important while striking a conversation. Frowning, looking here and there and tapping of fingers and legs can give out wrong signals about your disinterest in the other person. Try to smile; the main eye-contact and have an open posture can make the other person feel welcome and comfortable with you.
And remember to be yourself. As someone rightly said that the best way of being interesting is to stop trying to be interesting.