Asian Games 2023: A Look at Unique Sports, Returnees and Debutants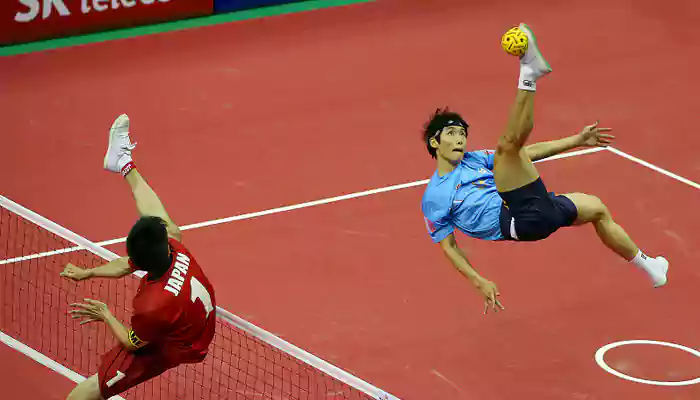 The Asian Games will feature the usual sports of which the world is aware. However, there are some unique sports about which we wish to enlighten the readers via this article.
On September 23, 2023, i.e., two days from now, the Asian Games will spring into action. The sporting event comprises several usual sports that the world is aware of. These sports require no introduction, from cricket and football to relay races and javelin throws. However, there are some sports about which we were not aware until we started digging up the internet for this article.
In the following paragraphs, we have compiled a list of some unique sports, along with returnees and debutants. 
Unique sports
Sepak Takraw
First debuted at the Asian Games in 1990, Sepak Takraw continues to be a lesser-known unique sport. The sport is basically volleyball, but instead of using hands, players control the ball via their feet. The nation that invented the sport is not confirmed, but there is debate among Singapore, Malaysia, and Thailand. Despite being popular in Southeast Asia, Thailand has largely dominated the game. 
Kurash
Kurash is an ancient fighting form from Uzbekistan. As per reports, this fighting form was used to train soldiers in the 14th century by one of the finest conquerors, Timur, who had conquered regions from Persia to central Asia. 
Kurash is similar to sumo, but in kurash, athletes wear a judo-styled robe. A player grabs the opponent player by their role and tries to tip the opponent over. 
Debutants
Breaking
To be honest, we are a bit confused by the inclusion of breaking or break dancing in the Asian Games. After all, for us, break dancing has always been a form of art rather than a sport. Break dancing will first make its debut at the Asian Games 2023, followed by a debut next year at the Paris Olympics. The event will comprise one individual event for men and women. It will be held on October 6 and October 7. 
Esports
In 2018, at the Jakarta Asian Games, esports was included as a demonstration title. However, in the upcoming Asian Games, esports will be included as a full-scale medal sport. 
This year, virtual games that will debut at the event are Arena of Valor, Dota 2, Dream Three Kingdoms 2, FIFA Online 4, League of Legends, Peace Elite Asian Games Version, and Street Fighter V: Champion Edition. However, the Indian esports contingent will only participate in Street Fighter V, FIFA Online 4, League of Legends, and Dota 2.
From India, an eighteen-member contingent has been sent to the event. The chosen gamers are Charanjot Singh, Karman Singh Tikka, Akshaj Shenoy, Samarth Arvind Trivedi, Mihir Ranjan, Aditya Selvaraj, Aakash Shandilya, Sanindhya Malik, Mayank Prajapati, Ayan Biswas, Krish Gupta, Abhishek Yadav, Ketan Goyal, Shubham Goli, and Darshan Bata.
Returnees
Cricket
India's favourite sport, cricket, is returning to the Asian Games after making appearances in 2010 and 2014. However, India's men's team will make its official debut in this edition after skipping the 2010 and 2014 editions. Besides the men's team, the women's team will also make its debut. Given the country's cricketing prowess, India is the favourite to win medals. 
Chess
Chess last appeared at the 2010 Asian Games and is set to return this year. The event has been divided into four categories: men's individual rapid, women's individual rapid, men's team rapid, and women's team rapid. The host nation and India are the strongest in this event, but a medal is expected from Indian chess prodigy Rameshbabu Praggnanandhaa.