Asia's Hockey Powerhouses Prepare for Epic Clashes at the Hangzhou Asian Games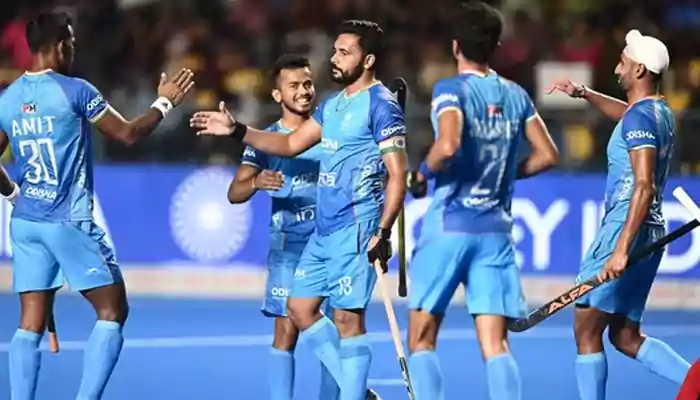 Asian Games 2023: A glimpse into the teams gearing up for glory.
In field hockey, few spectacles arouse as much fervour among fans and players as the Asian Games. With the grand stage set for the upcoming Asian Games commencing on September 23 in Hangzhou, all eyes are eagerly fixed on the potential for intense rivalries poised to electrify the hockey arena.
This anticipation extends to both men's and women's field hockey, with the competition expected to elevate to new heights, bearing witness to a legacy of fierce contests and indelible moments.
Men's rivalries
India vs. Pakistan
The legendary rivalry between India and Pakistan in field hockey has always motivated spectators. These two giants of the sport have clashed numerous times in Asian Games finals, and their encounters are characterised by fervent passion and fierce competition.
India vs. South Korea
India and South Korea have engaged in their fair share of intense battles, with South Korea emerging as a formidable men's field hockey contender. Their encounters are characterised by intense competition and never fail to deliver gripping hockey action.
Pakistan vs. Republic of Korea
Given Pakistan's historical dominance and the Republic of Korea's recent successes, clashes between these nations are eagerly awaited. The Republic of Korea's multiple gold medals at the Asian Games make them a formidable opponent for Pakistan.
Japan vs. India
Japan's ascent in men's field hockey, marked by their 2018 gold medal win, has disrupted the duopoly of Pakistan and India in Asian Games hockey. Matches between Japan and the traditional powerhouse of India promise to be fiercely competitive, with Japan keen to uphold its newfound status and India aiming to regain the pinnacle.
Japan vs. the Republic of Korea
Japan's triumph in 2018 has introduced an element of unpredictability to the landscape, and matches between Japan and the Republic of Korea could evolve into a captivating new rivalry, particularly if both teams continue to perform at a high level.
Malaysia vs. India/Pakistan
Malaysia's competitive spirit in Asian men's field hockey brings an element of unpredictability to the tournament. Their matches against traditional powerhouses like India and Pakistan are closely contested, with Malaysia aspiring to disrupt the established order.
Women's rivalry
India
In women's field hockey, India stands as a storied powerhouse. Their legacy in the sport includes being the inaugural women's field hockey champions at the Asian Games in 1982. Over the years, they have consistently been formidable contenders, and in Hangzhou, they are determined to reclaim the title and secure a coveted spot at the 2024 Olympics in Paris.
South Korea
Like their male counterparts, South Korea has emerged as one of the dominant forces in Asian women's field hockey. Boasting multiple gold medals at the Asian Games, they have firmly established themselves as perennial contenders. Their rivalry with China adds an extra layer of competition to the sport in the region.
Host nation
The host nation''s women's field hockey team has wielded substantial influence in Asia, showcasing a competitive squad and a history of success, including multiple gold medals at the Asian Games. As the host nation, they will enjoy home-field advantage and fervent crowd support, rendering them a formidable adversary for any team.
Japan
The Japanese women's field hockey team has undergone a remarkable ascent in recent years. Their breakthrough moment materialised when they clinched their maiden gold medal at the 2018 Asian Games, and they are steadfast in their determination to defend their title and sustain their strong performance. Japan now stands as a formidable force in Asian women's field hockey.
Pakistan
While Pakistan has traditionally excelled in men's field hockey, their participation in women's field hockey adds depth to the competition. They possess the potential to be competitive and create compelling matchups against other teams.
Other contenders
In addition to these significant teams, emerging challengers such as Malaysia and Thailand have actively endeavoured to elevate their performance. These teams can potentially upset the established order, rendering the women's tournament highly competitive.
Celebration of the Hockey spirit
The Hangzhou Asian Games not only promise exhilarating field hockey matches but also serve as a poignant reminder of how sports can unite nations and kindle the human spirit. As athletes from diverse backgrounds and cultures converge to compete, they serve as a living testament to the universality of the pursuit of excellence.
As the global audience tunes in to witness these exceptional athletes vie for glory, it is imperative to celebrate the potency of sports in transcending disparities and igniting a sense of unity. The Hangzhou Asian Games will not merely showcase the pinnacle of Asian field hockey but will also underscore the universal language of sports—a language that resonates with the hearts of every fan, player, and dreamer worldwide.